September 18, 2019
Every year, personal trainer Jolene Spear throws a pool deck party for her fitness clients, and another one for her neighbors. This year, Spear decided she wanted to make it more meaningful. When mentioning this to a friend, she learned about The Northwest Catholic Counseling Center's (NCC) "Party with Purpose" (PWP) program.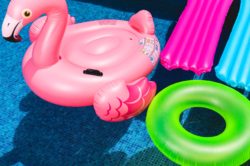 Spear learned that NCC could provide her with guidance and tools for hosting a low-key party with all proceeds going to a good cause – mental health care for those in need. This was exactly what she was looking for! All Spear had to do was invite her guests, and all the materials were provided.
Rather than her annual two parties, Spear decided to combine them to throw one big pool deck party. Lucky for Spear, Portland's September weather cooperated – dark clouds rolled in just as the party ended. Phew! In all, 25-30 guests attended Spear's Pool Deck Party, raising $1,350 for NCC to provide mental health care to those who wouldn't otherwise be able to afford it.
When asked what she thought about being a PWP hostess, Spear said: "It was a great way to share information about an organization doing great work in a relaxed, casual format." She particularly appreciated all of the educational materials NCC compiled for her.
Spear looks forward to hosting another one next yer (albeit earlier in the summer to beat the threat of rain).
---
Interested in hosting your own Party with Purpose? Learn more here.