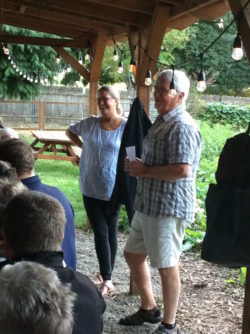 September 21, 2018
NCC Board member Ken Willett and his wife, NCC volunteer Debby, put the Side Yard Farm's bounty on full display at their Party with Purpose on Thursday, September 21. Three dozen friends and family gathered for an evening at the farm's garden and outdoor supper club in Northeast Portland to taste chef and owner Stacey Given's magic touch with the ingredients grown at her farm.
The event was part of the new Party with Purpose program inviting NCC supporters to host an event in any style they like, from birthday party to book club, golf tournament to farm dinner. Parties with Purpose give people the chance to have a great time, donate to NCC's mission of providing mental health care to people who are without insurance or resources, and learn more about the need, and shortage, of mental health access in our community.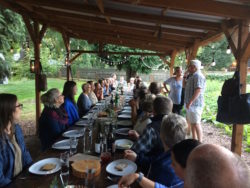 The festive group of three dozen hungry people started with wine and appetizers, then enjoyed five delicious courses including a farmer salad, spread of roasted beets and potatoes with lemon yogurt, homemade gnocchi with peppers and corn, pork shoulder with roasted grapes, and apple hand pies. The meal was served family style, giving guests lots of chances to talk and share.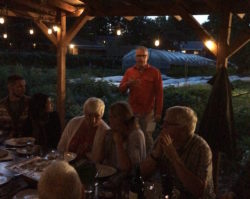 During the meal, therapist Alan Rutherford told the group about NCC's work, including the year-long journey of healing he has walked with client Megan. She came to NCC because anger rooted in her troubled upbringing was consuming her life. She began working on herself, learning tools to manage her anger, and began reconnecting with members of her family who'd become estranged. Alan noted that when Megan first came to NCC, she wore only black and had little but sharp words for those around her. But at her most recent session, she wore a pink florescent shirt and had just that day payed a coworker a compliment. Megan did not have insurance when she came to NCC and used the sliding scale to access care, which the assembled group was supporting.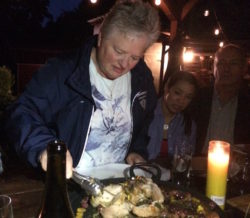 Ken said, "The Party with Purpose concept was a wonderful opportunity to showcase Side Yard Farm to friends, family, and others, and at the same time to increase the support for the NCC community." NCC sends a big thank you to Ken, Debby, and all of their guests for such a delicious and memorable evening! We also thank them for their generous donations in support of our mission. If you'd like to host your Party with Purpose, you can download a guide to get you started here.