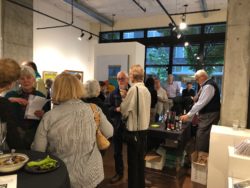 May 21, 2019
May is Mental Health Awareness Month, and NCC Board Member Nancie Potter chose to mark the occasion by hosting her happy hour Party with Purpose on May 18, 2019.  Almost 50 people enjoyed wines, Italian appetizers, cupcakes, live music, and art at J. Pepin Art Gallery in Northwest Portland's Pearl District, raising just over $2,000 for The Northwest Catholic Counseling Center!  All the money raised at the event helps us further our mission to provide quality, affordable mental health care to all who walk through our doors, regardless of faith or finances.
As with every Party with Purpose, one goal of this event was to raise awareness of the many ways that NCC helps meet our community's needs for mental health services.  But with its May timing, the party was also designed to help reduce stigma around mental health issues and brain injuries, and to provide guests with practical resources for tackling some common mental health challenges.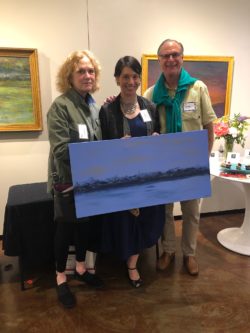 Nancie chose the art gallery as her venue not only because it features beautiful art works, but because its mission is to break down stigma and inspire people to think differently about mental health.  All artists represented by the gallery live with mental health issues.  Likewise, Sarah Bellum's Bakery & Workshop was chosen to provide dessert because it is staffed by adults with brain injuries.  To mark the end of National Anxiety and Depression Week, Nancie provided her guests with handouts about anxiety, depression, and healthy sleep.
This event wouldn't have been possible without the generous help of NCC's partner, J. Pepin Art Gallery.  Owner-artist Jennifer Pepin graciously allowed Nancie to hold the event in the gallery, and even donated one of her gorgeous paintings as a raffle prize.  See a photo of the happy winners on the right, Gail and Tom Kingsley!  The gallery is located at 319 NW 9th Ave, Portland, OR 97209.  Learn more about it at www.jpepinartgallery.com, and be sure to watch the short video on the home page, "Fighting Stigma at J. Pepin Art Gallery."  Don't forget to check out J. Pepin Art Gallery on First Thursdays!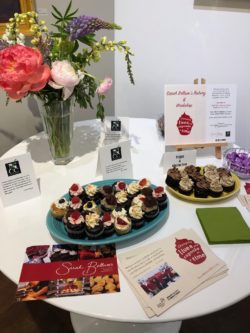 Sarah Bellum's Bakery & Workshop fulfills the longtime dream of Pacific University professor Dr. Rik Lemoncello to help adults with brain injuries return to work, play, and life.  Located in Multnomah Village at 7828 SW Capitol Highway, Portland, OR 97219, Sarah Bellum's takes pride in "changing lives one cupcake at a time."  In addition to cupcakes, the bakery sells cookies, brownies, and even gourmet dog treats.  It also does custom orders with free delivery service, and provides cupcakes for weddings and other events.  Learn more about this empowering nonprofit business at www.sarahbellumsbakery.org.