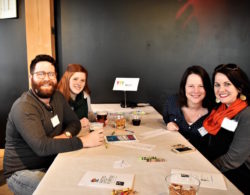 April 26, 2018
On April 6, The Northwest Catholic Counseling Center (NCC) hosted its annual spring fundraiser at the Lagunitas Community Brewing Room. Around 160 of NCC's friends, both new and old, gathered for the NCC Community Block Party in NE Portland. "All fun, no fuss" was the theme of the night. Guests gathered to casually enjoy great beer, local wines, and delicious food from two local food trucks. The fun atmosphere created a spirit of camaraderie, all of which was rooted in a powerful purpose: raising money to provide mental health care to anyone in need, regardless of ability to pay.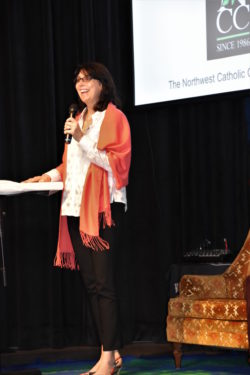 Guests heard from Mary Tobin, the mother of a former client of the Center. Mary's son came to NCC as a young child, when he first started experiencing symptoms of anxiety. As Mary told her son's story, she relayed the impact the Center had, not just on her son, but on their entire family. Through counseling, Mary's son learned how to manage living with anxiety and depression. He is now a thriving college student and a vocal mental health advocate.
As highlighted by Mary, what sets The Northwest Catholic Counseling Center apart from other organizations is its commitment to individuals who are without insurance or with limited financial resources. In its 32 years, NCC has never turned anyone away because of an inability to pay. Some clients pay as low as $5 per session.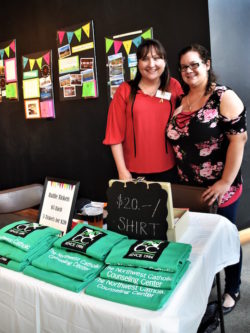 Offering quality, affordable counseling services would not be possible without the generosity of NCC supporters. From sponsors, such as Alpha Media, Magnacorp, and Glen and Monet Rubin, to hundreds of individual donors, the event raised nearly $50,000! Every dollar will go directly to cover the costs of counseling for those who have previously and unjustly been denied access to mental health services.
The experience of an NCC event, such as the 2018 Block Party, is hard to capture with words alone. There is a unique energy, formed by the sense that we are a part of something greater than ourselves. If you ever find yourselves at one of our events, you will find yourself wrapped in a sense of belonging, the same feeling that welcomes NCC clients every single day. Whether you were able to attend, volunteered, or gave a donation—thank you.