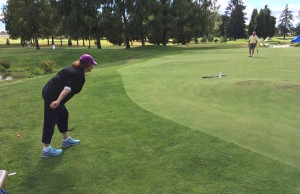 August 12, 2016
It's not often you see bowling on the golf course, but you could at the Colwood Golf Center in Northeast Portland on Sunday, August 7. Bowling with golf balls was one of the many quirky contests entertaining players at each of the nine holes during the Osburn Four Club Invitational, an afternoon of golf and fun hosted by NCC board member Natalie Osburn and her husband Oz. The event brought nearly 50 people out to enjoy some golf and lots of fun contests while raising nearly $1,700 for the Center's struggling clients.
Along with games like golf bowling, there was also golf ball billiards and golf ball badminton. Players also tried to get closest to the pin, hit a ball over a wall, and chip into a hoola hoop. At the end of the round, there were drinks, snacks, and a raffle, assuring everyone came out a winner. One supporter promised $20 for each birdie (one shot under par), giving added incentive for great shots.
Hole sponsors included St. Simon Coffee, Wonders of Walking, Renee Marella, Richard Leipzig CPA, Swirl Cheesecakes, Gloria Marth Design, and Wholeself Wellness. Contributors to the raffle were St. Simon Coffee, Colwood Golf Center, Riverside Golf and Country Club, Seamus Golf, Broadway Books, Camas Meadows Golf Course, Portland's White House, Costello's Travel Caffe, Heron Lakes Golf Course. JG Neil and Company provided snacks.