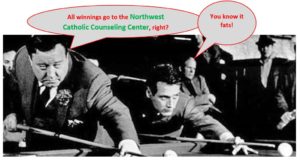 It's a pool party with no swimsuit required!  Join us for an Open House Fundraiser supporting behavioral health services of The Northwest Catholic Counseling Center. Drop by anytime between 4-8 pm Saturday, January 14, 2017, upstairs at Sam's Hollywood Billiards at 1845 NE 41st Ave. Open pool tables, drinks, food and
raffle prizes for $25 per person with net proceeds going
to provide those in need of counseling regardless of faith or finances. Share this invitation with friends and family who might want to stop by for some fun and support for a great cause!