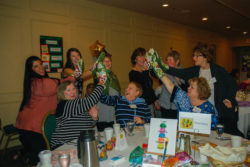 October 12, 2018
On September 29, over 200 women were a part of the 17th annual Circle of Strength Women's Fundraising Brunch.  Guests gathered at Riverside Golf and Country Club for an afternoon of coffee, brunch, and conversation. Beneath the enjoyment of being together, the women in the room were gathered together for a common purpose—to raise money for women and children who cannot afford mental health care.
The theme for this year, "The Art of Healing", was inspired by the event speaker, Jennifer Pepin. Diagnosed with bi-polar disorder in her 20's, Jennifer shared about her own mental health journey. Jennifer is the owner of the J. Pepin Art Gallery, located in the Pearl District of Portland. In an effort to break down stigma, the gallery only features artists living with mental illness. Jennifer believes that by working together, the landscape of mental health can be one of hope, dreams, and believing in a more accepting world.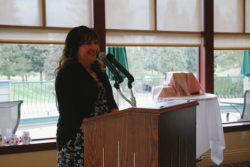 Marchelle Carl was the client speaker of the event. She first came to NCC for counseling as a young child and has continued off and on through adulthood. The Center and its staff have walked with Marchelle, offering support through the struggles, losses, and pains of life. Marchelle would not have been able to access counseling if not for the sliding scale fee offered at The Northwest Catholic Counseling Center.
Through their generosity, the women gathered at Circle of Strength expressed their belief that no woman or child should ever be denied access to counseling.
$75,000 was raised to provide the mental health care for financially fragile women and children in our community!
Visit our Circle of Strength page for more details, pictures, and videos from the event!