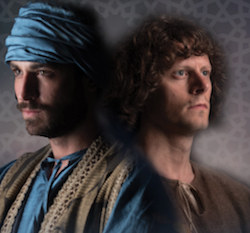 November 10, 2017
Pop your popcorn! NCC is partnering with other community organizations on the Portland premiere of The Sultan and the Saint. It's on Thursday, November 16 at 6:30 pm at the Muslim Educational Trust, 10330 SW Scholls Ferry Road, Tigard, 97223. Tickets are $10 for adults and $5 for students. For more information or to buy tickets, click here.
This docudrama about Muslim/Christian peacemaking is narrated by Academy Award Winner Jeremy Irons. A quick summary: "During the Crusades, Saint Francis of Assisi risked his life by walking across enemy lines to meet the Sultan of Egypt, the Muslim ruler Al-Malik Al-Kamil. This remarkable encounter, and the commitment to peace of the two men behind it, sucked the venom out of the Crusades and changed the relationship between Muslims and Christians for the better."
Hope to see you there!