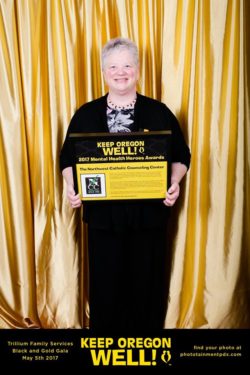 May 15, 2017
On May 6, NCC was recognized as a Mental Health Hero at Trillium's Black & Gold Gala. The event took place at The Nines in Portland. Those in attendance included Mental Health Heroes from this year and years past. Their stories of triumph, healing, resilience, and community-building were featured throughout the night. Other festivities included dinner, dancing, a live auction, and the launch of the 2017 Keep Oregon Well Mental Health Heroes awards.
Board member and longtime supporter, Julie Rowland, represented NCC at the event. When asked about her experience she commented, "The evening was wonderful. The people from Trillium Family Services were welcoming and excited that so many people were gathering to support mental health. It was an honor to represent NCC. The work that is done at NCC is so deserving of this award. It is a great tribute to all the hard work contributed by the counselors and administrators. Serving others regardless of faith or finance, is something that is truly lived out by the center. It was great to                                                                                 see that recognized by such a wonderful organization."
NCC was one of 31 individuals and organizations who were recognized at the gala.  Every day in May, each of the recipients will be honored for their role in paving the way for mental and behavioral healthcare to thrive in Oregon. Be on the lookout for NCC on May 29! We will be featured on the Trillium website and across the Keep Oregon Well social media network.