Never. Under No Circumstances.
October 4, 2017
The month of October is dedicated to calling awareness to domestic violence (DV).
A single statistic highlights the need for this awareness. On average, 24 people per minute are victims of rape, physical violence or stalking by an intimate partners in the U.S. – that's more than 12 million women and men over the course of a year. Unbelievable and unacceptable.
In order to adequately look at this cruel behavior, we first need to define it.
Simply put, domestic violence is a pattern of behaviors used by one partner to maintain power and control over another partner. Domestic violence includes behaviors that "physically harm, arouse fear, prevent a partner from doing what they wish or force them to behave in ways the do not want."1
Abuse usually starts slowly and then is followed by apologies and promises that it won't happen again. But it usually does. It is natural to be in denial and to make excuses. Who wants to admit that the person we thought loved us is our abuser?
Abuse is not just a physical act such as slapping, punching or pushing. The National Domestic Violence Hotline offers brief questions for reflection that clearly indicates abuse.
Does your partner ever…
Insult, demean or embarrass you with put-downs?
Control what you do, who you talk to or where you go?
Look at you or act in ways that scare you?
Stop you from seeing your friends of family members?
Control the money in the relationship? Take your money or Social Security check, make you ask for money or refuse to give you money
Prevent you from working or attending school?
Act like the abuse is no big deal, deny the abuse or tell you it's your fault?
Destroy your property or threaten to kill your pets?
Intimidate you with guns, knives or other weapons?
Attempt to force you to drip criminal charges?
Threaten to commit suicide or threaten to kill you?
Pressures you to have sex when you don't want to or do things sexually you're not comfortable with?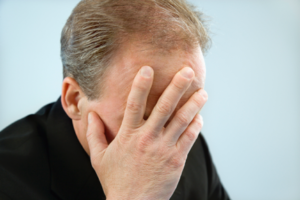 If you answered, "yes" to even one of these questions, you may be in an unhealthy or abusive relationship. No matter were you are in your relationship, planning for your emotional and physical safety is extremely important. Do not let fear or embarrassment prevent you from addressing this issue.
Reach out to a counselor, close friend, trusted family member for support and guidance. If the abuse is deeply rooted in the relationship, begin by creating a safety plan – a plan that includes ways to remain safe in the relationship as well as a plan to leave if necessary.
If a friend or loved one is abused acknowledge that they are in a difficult and scary situation. Be supportive and listen non-judgmentally. Encourage them to talk with those who can provide help and guidance.
Here are concrete and immediate ways to find help and support:
In Oregon, contact the Oregon Coalition Against Domestic and Sexual Violence at 503-230-1951.
In Washington, contact the Washington Coalition Against Domestic and Sexual violence at 360-586-1022.
Never hesitate to call 911.
For general information contact The National Domestic Hotline at 800-799-7233.
---
Resource