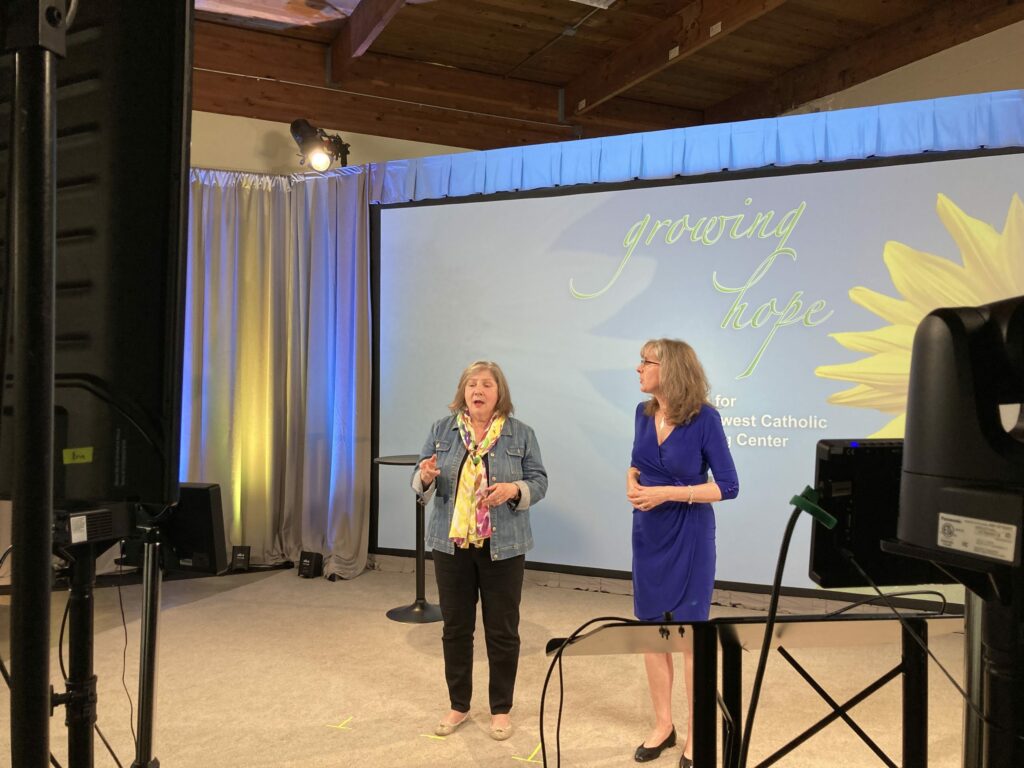 May 10, 2021
This past year has been challenging, to say the least. Our clinicians and staff know firsthand how the pandemic and social unrest has affected the mental health of people in our community. But out of those stories grow seeds of hope – helping us bloom into healthier and happier people. To kick off Mental Health Month this May, The Northwest Catholic Counseling Center (NCC) hosted Growing Hope, a virtual fundraising event, to raise  money to support our mission in serving all who need mental health care, regardless of faith or finances. Our mission is especially important through these challenging times, as many are uninsured and/or are financially struggling.
Over $41,000 has been raised for mental health care in our community!
Executive Director Erin Peters performed as emcee of the virtual event, welcoming participants from all over the country! NCC supporter Anne-Louise Sterry joined later to help cheer our donors on as they raised money for the center. Co-founder of NCC, Sr. Sarah Deeby, OSM, made a special appearance from Omaha. As she called the group together in reflection and prayer, she reminded us that we were gathered to support those whose lives have been upended by the pandemic.
Not a single person has been untouched by COVID-19. But for some, the impact of the pandemic has been particularly stark. Many have lost jobs and have seen health insurance and savings vanish. Others have had friends or relatives die, with the usual comfort we have in grief, family and friends coming together to mourn, swept away. And the social unrest of the last year has shown us the many, many layers of trauma we, or our neighbors, live with on a daily basis.
Thankfully, NCC didn't miss a single day of providing care. Over a frenetic two weeks, staff pivoted all counseling services to 100% remote to keep our staff and our clients safe. Therapy shifted to over the phone and over secure video, ensuring that clients could continue accessing life-saving mental health care.
Two of NCC's therapists, Jeremy Richardson, LPC and Michelle Sideroff, LPC, shared what it's been like for them to continue providing mental health care throughout the pandemic, and shared their experiences shifting to teletherapy. Many of the clients they've seen come with PTSD symptoms, and the pandemic has made healing hard because you can't heal in the environment where you're experiencing trauma. That is why mental health care is so crucial during these times of uncertainty. This is the time for you to get the help you need. Don't let fear stand in your way.
Former clients Karen and Tia shared how counseling transformed their lives, and gave them the tools they needed to move through the pandemic. Karen shared her realization that she couldn't change other people's actions – only her own. Both encouraged all who need care, to reach out for help. Tia urged the audience, "Don't wait. Don't spend another moment worrying alone. Invest in yourself because you're awesome and you're amazing. Get the help you need."
The event has raised just over $41,000 so far, with donations continuing to roll in. We're trying to reach our $50,000 goal, and there's still time to donate! Our campaign will be open throughout the month of May to celebrate Mental Health Month. If you can't give monetarily, you can still support mental health by sharing our sample social media posts and graphics with family and friends to destigmatize mental health and create a more supportive and understanding community.
We are incredibly grateful to a number of people who helped make this successful event happen, including the Growing Hope Event Committee, NCC's Board of Directors, The AV Department, Matchlight Video, Portland Nursery, and all of our speakers. Finally, big thanks to our generous sponsors: Christine Tracey, Marilyn and Tom Fink, and Sisters of Providence.
On behalf of all of the clients who get help and hope at NCC, thank you all for being part of NCC's mission in providing access to affordable, professional mental health care!
Missed the event?
Go to our event page to watch a recording of the event, donate, and get involved in Mental Health Month!