September 26, 2019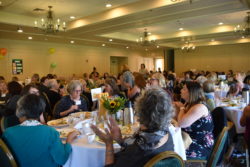 Nearly 230 incredible women gathered on September 21 for The Northwest Catholic Counseling Center's (NCC) 18th Annual Circle of Strength Luncheon to raise money for financially fragile women and children to get the mental health care they need. The theme being "Growing the Circle" was apt – as this was its highest attendance record to date! Guests gathered at Riverside Golf and Country Club for a morning of coffee, community, and compassion.
Old friends caught up, and new friends were given the chance to form bonds. Before programming started, guests filtered through the room perusing raffle items to test their luck. Prizes included a golf-getaway, a self-care package, a children's package, and more!
NCC executive director, Erin Peters, reminded the audience that hate speech and violence towards immigrants and people of color grows in our community and country. As a response, NCC officially announced its Levantar Program, bringing culturally and linguistically tailored mental health care to Portland's Latinx community.
Levantar, meaning to stand or to rise up, will allow those without resources or money, or who have immigration or legal barriers to care, to access vital and life-saving mental health services. Moving through this year into next, NCC is writing grants, talking to businesses, and working with partners to find more resources to add therapist time and hire a program coordinator.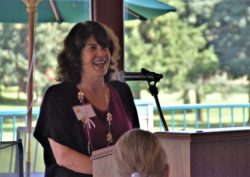 Guest speaker and Multnomah County Commissioner, Sharon Meieran, reflected on her inspiration for public service. Meieran began her career practicing law – her legal work including litigation on behalf of children in the areas of health, education, and juvenile justice reform. She subsequently went to medical school, specializing in emergency medicine. Her medical background informs her work as a Multnomah County Commissioner, particularly around mental health care, substance abuse, and police use of force. During 2018, she spearheaded an extensive report on the accessibility and effectiveness of our local mental heath system, and works daily to improve it.
Meieran shared her experience with depression. "It colored so much of how I saw the world. I was fortunate – I had support. But it was still hard."
She urged the audience to use their own power to affect change in their community. "Tell your story. Destigmatize mental illness. Advocate and affect policy. Volunteer with The Northwest Catholic Counseling Center. We all need to be working together, and I believe we can do it."
One in three women experience sexual assault in their lives, living through emotional and psychological effects that are long-lasting. One such woman shared her own truth with the group. Being sexually abused for years as a child, she repressed memories of the abuse until years later when the memories were triggered. For her first few sessions at the Center, all she could do was cry. But eventually, with the help of her therapist, she was able to take control of her experience, and move forward.
The event has raised over $82,000 so far – with donations continuing to roll in. This generosity shows that Portland values the work and the clients of The Northwest Catholic Counseling Center – and believes that everyone should have access to quality mental health care.
NCC is exceedingly grateful to the event sponsors: Magnacorp, Marilyn and Tom Fink, Pacific Seafood, Weston Kia, Pacific Residential Mortgage, Bustos Media, Providence Health & Services, Northwest Lawfirm, and Stoel Rives LLP.
Thank you for being part of our mission!
We have more pictures from the event posted on Flickr – thanks to Cynthia Ryan for volunteering her time and photography skills!
---
Weren't able to attend the event? Consider donating toward mental health care access here.
To learn more about volunteer opportunities and to get more involved with the Center, contact us at

[email protected]

.