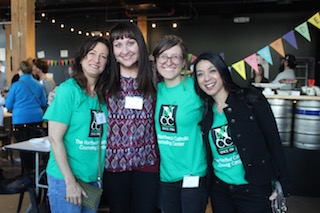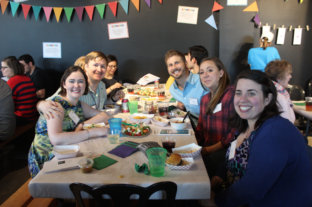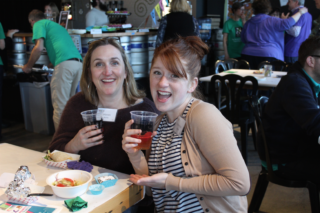 The "all fun, no fuss" slogan for the NCC Community Block Party Fundraiser certainly lived up to its billing! A more casual event than years past, guests enjoyed the informal sense of togetherness. 160 of NCC's friends, both new and old, packed the Lagunitas Brewing Community Room in NE Portland. Attendees enjoyed great beer, local wines, and fabulous food from three local food trucks. The fun had a powerful purpose.
The event raised nearly $50,000 to pay for counseling and psychiatric medication management for people in our community without insurance or financial resources!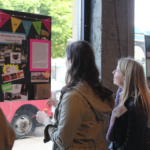 While people sipped on a chardonnay or IPA, they bought raffle tickets for some great prizes, including an instant wine cellar, week at an oceanfront home at the Oregon Coast, a "stash of cash" with hundreds of dollars in spending money, or a summer of fun activities in the Willamette Valley. Many picked up great gift cards to local restaurants on the "Tasty Treats" wall. A $25 investment won several people $50 or $100 to local favorites such as Higgins, Fire and Stone, El Gaucho, and Pastini's.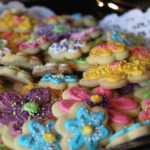 There was no shortage in the variety of food. Koi Fusion, Home Plate Sliders, and Ramy's Lamb Shack made sure no one left hungry! If guests weren't full enough after dinner, they had a table-wide spread of delicious desserts made by Mary Beth Lynn. Although some desserts looked almost too pretty to eat, guests indulged in their fill of sweet delicacies.
Guests heard from two speakers that night. The first was Brooke Galster-Boston, current NCC counselor. Brooke shared the story of one of her clients—a journey of unexpected challenges, abuse, pain, but also a story of hope. Second speaker, JoAnne, shared of her experiences both as client and now as a donor. She also gifted the audience with telling the story of her late husband, Ron George—a donor who recently left NCC an incredibly generous bequest.
Both speakers shared stories of positive change and growth. These journeys of healing were made possible by NCC's sliding scale for people who couldn't normally afford counseling services. With compassionate, professional care provided for a little as $5 a session, those listening to the stories could clearly see the importance of sharing blessings with others in need.
The experience of an NCC event, such as the 2017 Block Party, is hard to capture with words alone. There is a unique energy, formed by the sense that we are a part of something greater than ourselves. If you ever find yourselves at one of our events, you will find yourself wrapped in a sense of belonging, the same feeling that welcomes NCC clients every single day. Whether you were able to attend, volunteered, or gave a donation—thank you.
Thank you for your role in making our work of hope possible.